Providing a unique interdisciplinary approach bridging art history, creation, and curatorial practice, and the best facilities in Canada.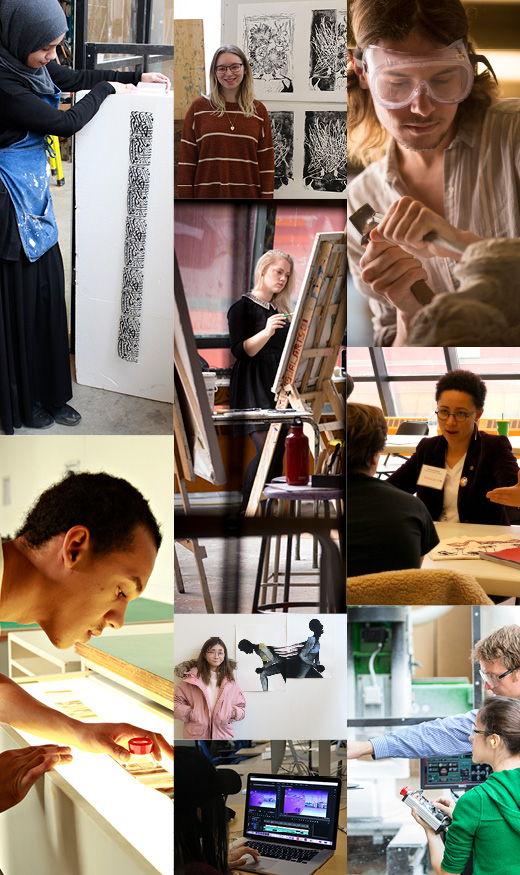 ABOUT
Visual Art & Art History
With its unique interdisciplinary approach that bridges studio production, art history and curatorial practice, AMPD's Department of Visual Art & Art History offers students the opportunity to become well-rounded professionals in the field, able to lead in the creation, exhibition, critical understanding and communication of visual culture in diverse environments. Bridging art creation, art history and curatorial practice, VAAH provides a unique interdisciplinary approach and the most acclaimed facilities in Canada.
OUR CREATIVE SPACES
L. L. Odette Centre for Sculpture
HIGHLIGHTS
A Brief History
1962
Lionel Rubinoff and William Kilbourn begin to bring art exhibitions to the campus, starting with Alan Jarvis' A Decade of Art. Subsequent exhibitions follow, supervised by the Art Committee of the Board of Governors.
1965
With the development of the Keele Campus, the Stong House becomes an art studio used by painter Ronald Bloore and many others.
1968
The Department of Visual Arts is officially created and Ronald Bloore is appointed founding faculty member, under founding Dean Jules Heller in the newly established Faculty of Fine Arts.
1969
Department of Visual Arts enrols its first class.
1969
Rex Lingwood was one of the first students in the Fine Arts at York. He transferred from Psychology to Visual Arts, with a minor in Theatre Design.
1973
The second Fine Arts building (the first benign Burton Auditorium in 1965), now known as the Joan and Martin Goldfarb Centre for Fine Arts (CFA), designed by Raymond Moriyama, opens.
1974
The Graduate Program in Visual Arts is established.
1976
Samuel Sarick establishes the Samuel Sarick Purchase Award in the graduate program in Visual Arts at York University. It is awarded to, on average, one student every year and their work is displayed throughout the Joan and Martin Goldfarb Centre for the Fine Arts.
2003
The Art Gallery of York University is founded.
2007
The Gales Gallery is dedicated, named in honour of donors Joy and Barry Gales.
FACULTY AND STAFF
People of Visual Art & Art History
Associate Professor
Sarah Parsons
Associate Professor
Brian Grosskurth
Associate Professor
Hong Kal
Associate Professor
Leslie Korrick
Associate Professor
Yam Lau
Associate Professor
Nina Levitt
Associate Professor
Nancy Nicol
Associate Professor
Judith Schwarz
Professor Emeritus
Karen Stanworth
Associate Professor
Kevin Yates
Professor Emeritus
Carol Zemel
Professor Emeritus
Ted Bieler
Professor Emeritus
Shirley Ann Brown
Professor Emeritus
Barbara Dodge
Professor Emeritus
Hugh LeRoy
Professor Emeritus
Guy P.R. Métraux
Professor Emeritus
Bruce Parsons
Professor Emeritus
Tim Whiten
Professor Emeritus
Joyce Zemans
Professor Emeritus
Michael Davey
Contract Faculty
Chris Ironside
Professor Emeritus
Nell Tenhaaf
Associate Professor
Dan Adler
Associate Professor
David Scott Armstrong
Professor Emeritus
Jon Baturin
Associate Professor
Marc Couroux
Professor
Michel Daigneault
Assistant Professor
Holly Ward
Assistant Professor
Tammer El-Sheikh
Technical Staff
Lindsay Page
Assistant Professor
Robyn Cumming
Professor Emerita
Shelley Hornstein
Assistant Professor
Marissa Largo
Assistant Professor
Archer Pechawis
Assistant Professor
Natasha Bissonauth
FACULTY AND STAFF
Getting Involved